Domestic Violence Crimes in North Carolina
Domestic violence is not a crime in and of itself but a label attached to various offenses that take place in a domestic setting. Along with drug crimes, these are among the most common charges filed and prosecuted in North Carolina. They are taken very seriously by prosecutors and the courts in an effort to protect families and discourage further crimes of this nature.
Domestic violence crimes are generally emotionally charged issues often surrounding a divorce, child custody battle, or relationship breakdown. They can be crimes committed out of spite, jealousy, frustration, or revenge, especially to get back at the other person or get the upper hand in a court case.
If you have been charged with any type of domestic violence offense in Fayetteville or elsewhere in North Carolina, we strongly advise you to seek out trusted legal representation as soon as possible. At Rand & Gregory, we have built a strong reputation in our nearly 100 years of combined professional experience. Our team has in depth knowledge of the laws and procedures pertaining to domestic violence offenses and a good standing in the local court systems. We leverage this to our clients' advantage, creating comprehensive defense strategies that look at every aspect of a case in order to predict and protect against all possible arguments from the prosecution.
If you've been arrested for a domestic violence offense, or if you have had a restraining order taken out against you, do not hesitate to reach out to Rand & Gregory. Call (910) 684-4049 today.
Domestic Violence Crimes in North Carolina
Those who may be involved in a domestic violence crime in our state can include:
Spouses and former spouses
Individuals related by blood or marriage
Individuals who have cohabited or formerly cohabited
Individuals who have been dating or formerly dated
Individuals who have a child in common
A parent, legal guardian, or appointed custodian and a minor child
The various crimes that fall under the label of domestic violence can include assault; sexual assault; false imprisonment; forcing the victim to engage in some unwanted act; breaking and entering into an alleged victim's home; and harassment, such as stalking, trespassing, destroying property, harming or killing pets, and more.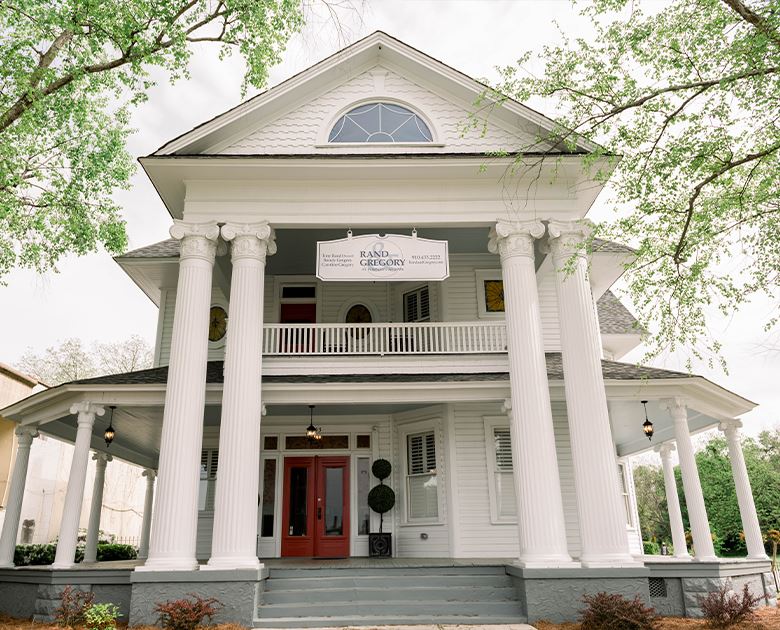 Put Rand & Gregory in Your Corner
Many domestic violence charges begin with a police response to a 911 call. When someone then gets charged with a domestic violence crime, the matter is taken out of your hands. Your accuser cannot later request to get the charge dropped. Only the prosecutor has the authority to do so.
Charges and their potential penalties depend on the nature of the offense; the alleged abuser's prior criminal history; and other aggravating factors, such as the use of a weapon, if drugs or alcohol were involved, and other issues. The trouble with these cases, however, is they rely on one person's word against another. Memories can fade, allegations can be fabricated, and smaller issues can be blown out of proportion.
This is especially true in the case of family or civil disputes, where an alleged victim may make a domestic violence accusation in order to gain the upper hand in a custody battle or support case. While the justice system does try to protect the innocent in these matters – and remember, you are always innocent until proven guilty beyond reasonable doubt – you will still need to stand up for your side of the story in court. Our Fayetteville domestic violence defense attorneys are ready to stand by your side throughout your matter.
Contact Our Firm
Just because you are charged with a domestic violence crime does not mean you will automatically be convicted. However, your chances of a case dismissal or reduced charges or sentencing will be enhanced with competent and dedicated legal representation. Our legal team can thoroughly investigate the charges in search of weaknesses or flaws in the prosecutor's case against you. We know what to look for, how to evaluate potential defenses, and how to fight relentlessly for the best possible result.
Ensure your case is properly defended – contact us online or by calling (910) 684-4049 to schedule your consultation.
We're Here To Help
Contact Rand & Gregory to discuss your case today.