Fayetteville Drug Crime Lawyers
Drug crimes are among the most common of all criminal charges in North Carolina and across the nation. These are crimes cover a broad range of offenses, from various activities involving illegal street drugs such as cocaine, heroin, methamphetamine, ecstasy, and more to selling and trafficking unauthorized prescription medicines. Being arrested and charged with any type of drug crime, including illegal possession or possession of drug paraphernalia, cultivation or distribution, sale, and trafficking, is a serious matter.
You face potential jail time, fines, and probation as well as a permanent criminal record and a stain on your reputation that can leave you ineligible for certain jobs or housing opportunities.
A skilled drug crime defense attorney is crucial to help you obtain the best possible outcome in your case. At Rand & Gregory, you can rely on our storied history and good standing in our community – and that doesn't come from us. In our nearly 100 years of combined experience, we've had the pleasure of successfully fighting for thousands of clients and their testimonials speak volumes to our professionalism and dedication when it comes to fighting for your rights.
Charged with a drug crime? Don't speak to the police without first calling our Fayetteville drug crime lawyers. Call (910) 684-4049 to schedule your consultation.
Drug Crimes in North Carolina
Our state has many laws on its books involving drug crimes. How you are charged and penalized in any drug crime will depend on various factors, such as the type of drug found in your possession, how much of it was found, whether you have any prior convictions, and other aggravating factors. Aside from possessing small amounts of marijuana, most drug possession cases are charged as felonies.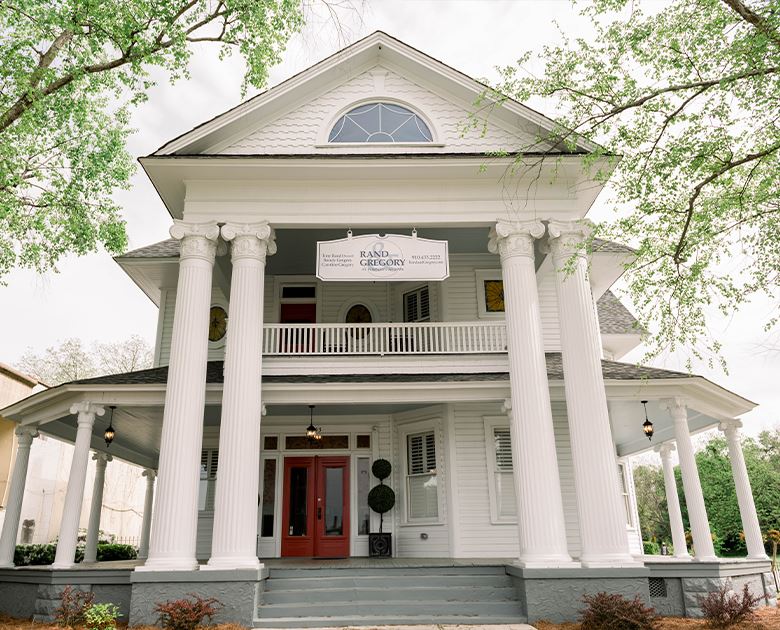 Get the Help You Need from Rand & Gregory
Drug crimes in North Carolina can include:
Drug possession of illegal street drugs or fraudulently obtained prescription drugs such as oxycodone, hydrocodone, Xanax, Adderall, fentanyl, and more. Possession means that the drugs were under your control, whether found on your person, in your home, office, or car.
Possession of drug paraphernalia, such as pipes, bongs, scales, baggies, and other equipment used for your own use or for drug sales.
Drug sales or distribution, which are commonly charged when you are found with large quantities of drugs which would indicate that you seek to sell drugs to others.
Drug manufacturing, as in labs used to create methamphetamine.
Cultivation, as in illegal marijuana farms grown to make product distribution.
Drug trafficking, which involves moving large quantities of drugs or pills across the state or across state lines.
Simple possession is the least serious of these offenses but, in cases other than small amounts of marijuana, you will still be facing a felony charge. Under N.C. General Statute 90-95(a)(3), a first or second possession charge of a Schedule I through IV controlled substance is classified as a Class I felony, carrying penalties of up to 24 months in jail and large fines. In some cases, for a first offense, you may be able to take drug education classes in lieu of a conviction and jail time. In cases of drug addiction, you may be able to go to Drug Treatment Court (DTC) in which an intensive rehabilitation program is ordered in lieu of jail time.
With the help of our firm, it may be possible to have your drug possession felony charge reduced down to a misdemeanor through the negotiation of a plea bargain. If we find that the case against you is too weak to obtain a conviction, it can lead to the charges being dropped entirely.
Reach Out to Our Firm
Drug crimes can lead to serious consequences regarding your freedom and future. They require the knowledge and skills of a savvy defender who knows how to investigate all of the facts and circumstances in order to get the best possible outcome. Our firm has repeatedly demonstrated its criminal defense skills for thousands of clients throughout the area. We urge you to call us at this critical time.
When you hire one of our skilled attorneys, you will get the benefit of a team approach. We know how to thoroughly investigate and analyze all of the factors involved in your arrest, including what to look for to create effective defense strategies based on law enforcement errors, weak or conflicting evidence, and more. By putting your case in the hands of our seasoned legal team, you make a positive decision to proactively protect your future and your freedom.
Call (910) 684-4049 to discuss your arrest. We offer the help you need to confidently face your charges.
We're Here To Help
Contact Rand & Gregory to discuss your case today.