Southern Pines Attorney Services
Whatever the nature of your legal problem, at Rand and Gregory, professional attorneys at law will provide adequate guidance and support during your case. The combined 95-year experience of our team guarantees comprehensive legal advice and representation for residents of Fayetteville, North Carolina.
The credentials of our lawyers are vouched for by the membership in the Cumberland County Bar Association, North Carolina State Bar Association, and the Twelfth Judicial District Bar Association.
Residents from Southern Pines 28388 can schedule a meeting by calling us on the phone number (910) 684-4049. With an appointment, our lawyers will be glad to receive you at our offices located at 343 Person St. Fayetteville, NC 28301, and offer consultation on the best strategy for your case.
Rand and Gregory's attorneys have the skills to handle most legal problems. Everything from traffic issues to criminal proceedings is covered!
The town of Southern Pines was created by the merger of two communities by the same name but distinguished by their cardinal directional. People of Scottish descent inhabit the east-facing community, while the west-facing town was populated predominantly by African Americans.
The smaller West Southern Pines was absorbed by its eastern neighbor in 1931, creating a unified town with a rich cultural heritage that is honored with frequent festivals.
Currently, approximately 12,736 residents call Southern Pines their home. The town falls in the jurisdiction of Moore County, located about 40 miles west of Fayetteville.
Southern Pines has a vibrant cultural and economic scene for a small town. It functions as a center for surrounding towns, serving their needs with locally-owned boutiques, restaurants, and historical sites. Local parks cater to enthusiasts of outdoor activities such as biking, golfing, and equestrian sports.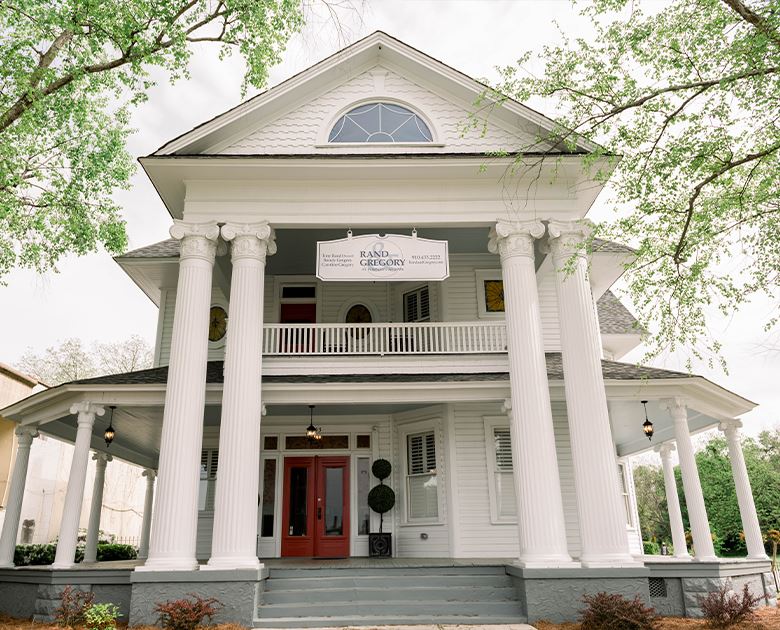 Contact a Qualified Southern Pines Attorney at Law
Attorney representation is imperative when drafting agreements or facing a courtroom appearance. Rand and Gregory's attorneys at law are at your disposal for any legal proceeding initiated against you in Southern Pines, North Carolina.
Every Southern Pines resident that's filing for divorce or needs representation during child custody proceedings can contact our offices for legal advice concerning the case.
The types of attorney services we offer include:
Commercial Cases
Litigation
Favorable results for residents of Southern Pines get attained through proper legal channels.
For Rand and Gregory lawyers, there is no such thing as an insignificant case – every client receives our complete attention.
Queries and meeting requests can get addressed through our phone at (910) 684-4049. Alternatively, visit our office at 343 Person St. Fayetteville, NC 28301, and get the necessary information from our friendly staff.
Southern Pines 28388 residents active on social media can reach out through the form on our website, or on our Facebook page.
We're Here To Help
Contact Rand & Gregory to discuss your case today.